Linda Partridge elected member of the Leopoldina
Recognition for outstanding contributions in the field of ageing research
Professor Dame Linda Partridge, retired Director Emeritus of the Max Planck Institute for Biology of Ageing, has been elected a member of the Leopoldina, the oldest continuously existing scientific academy in the world.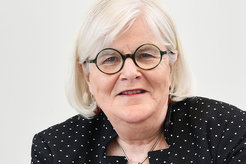 Election to the Leopoldina is based on strict standards of scientific excellence and is a testament to Professor Partridge's outstanding contributions to the field of ageing research. About three quarters of the Leopoldina's members are from Germany, Austria and Switzerland, with the remaining members from other countries around the world.
"I am delighted and greatly honoured at this election, and look forward to contributing to the work of the Leopoldina", says Linda Partridge.
About Linda Partridge
Professor Partridge is a world-renowned expert in the biology of ageing and has made numerous groundbreaking discoveries throughout her career. Her research focuses on understanding the molecular and genetic mechanisms underlying ageing, with the aim of developing interventions to extend life expectancy and delay the onset of age-related diseases. Linda Partridge is one of the founding directors of the Max Planck Institute for Biology of Ageing.
About the Leopoldina
The Leopoldina has two main objectives: to provide scientific advice to policy-makers and the public, and to represent German science in bodies in which mainly national academies are active. As a member of the Leopoldina, Professor Partridge will participate in the election of new members, initiate and organise scientific events and participate in working groups to provide science-based advice on interdisciplinary societal issues.