Farewell symposium for Linda Partridge
15 years of groundbreaking research and a moving tribute
Linda Partridge was one of the founding directors of the Max Planck Institute for Biology of Ageing and is now retiring after 15 years. To celebrate her extraordinary research achievements and honour her as a person, a symposium was held with speakers who have accompanied her on her journey or conducted research in her group.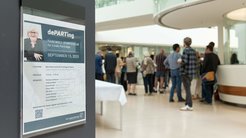 Linda Partridge's main research goal was to unravel the molecular mechanisms by which health can be promoted during ageing in flies, mice and humans. With her group, she focused on the role of cellular signalling pathways that measure the availability of nutrients and the influence of dietary restriction on the ageing process. Another area of interest was geroprotective drugs.
The welcome address was given by the current Managing Director of the Max Planck Institute for Biology of Ageing, Thomas Langer. He acknowledged Partridge's indispensable contribution to the founding of the Institute and her outstanding research: "Linda was one of the founding directors of this Institute and helped build it from the beginning. Linda, Adam and Nils were the 'dream team' of the Ageing Research Campus. Linda's group grew steadily and she was always eager to do great science and on the same time to have a lot of fun on different occasions."
Afterwards, scientists who accompanied Partridge during her time at the Max Planck Institute and/or did research in her group gave insights into their current research and did not spare compliments for Partridge. For example, William Mair from Harvard University said: "What makes working with Linda so special is her amazing ability to bring people together. All the generations of graduate students and postdocs who have worked with her would probably say they were in the 'golden age of the group'." Rozalyn Anderson from the University of Wisconsin added: " I'd like to say I'm Linda's biggest fan, but there's a lot of competition for that in the auditorium today."
The symposium ended with a musical interlude by Eline Slagboom. She sang, among others, the song "My Funny Valentine" by Frank Sinatra and dedicated it to her long-time friend Linda Partridge.