Bioinformatics core facility publishes Flaski
New collection of web applications for data analysis and visualisation
The Bioinformatics Core Facility has released a collection of web applications for data analysis and visualisation in the life sciences. Flaski is a flask-dash collection of web applications with session management and versioning.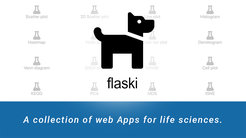 Flaski is responsive, meaning it works on both desktop displays and mobile phones, depending on the size of the data.
Flaski is designed for interaction between code-savvy and non-expert users. Sessions created via the web interface can thus be downloaded and further processed in Python as a standard Plotly object, and vice versa.
As a product developed by the Bioinformatics Core Facility at the Max Planck Institute for Biology of Ageing, it offers researchers the opportunity to contribute to its development with their needs and ideas.
Please feel free to the core facility bioinformatics@age.mpg.de for suggestions and recommendations.
Flaski is open source under the MIT licence and can be used without restrictions at https://flaski.age.mpg.de.