Yu-Xuan Lu selected for european crucible 2021
Postdoctoral researcher from Max Planck Institute for iology Of Ageing participates in development programme for leading scientists of the future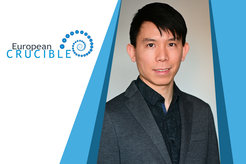 Yu-Xuan Lu, postdoctoral researcher in the Department for Biological Mechanisms of Ageing led by Linda Partridge, has been offered a place on the European cohort of European Crucible 2021. Together with another 24 high calibre researchers from 13 different countries across Europe, Lu will join an intensive and interactive virtual programme for researchers.
About European Crucible
The European Crucible is a leadership and development programme for early/mid-career researchers from Europe with the aim of enhancing world class research competitiveness and advanced training through strategic cooperation. The programme offers opportunities to build new research collaborations at the interfaces between life, physical, engineering, computational, mathematical, environmental, and social sciences, arts and humanities in Europe. In collaboration with the 'Scottish Crucible' and the Scottish Research Pools, the European Crucible programme held this year for the first time will have an emphasis on innovative ideas for collaborations at the interfaces between life sciences and other disciplines. 25 European researchers from different scientific disciplines have been selected to join the programme, where they meet the 'Scottish Cohort' to develop interdisciplinary project proposals and bid for a small amount of seed funding.
About Yu-Xuan Lu
Yu-Xuan Lu has been working on interventions of ageing in the department of Linda Partridge for more than six years. His research focuses on studying the molecular interaction between nutrient perception signalling pathways and chromatin organisation. He also explores how and why approved drugs affect the two sexes differently during aging. Lu successfully received EMBO long-term fellowship and was honoured as an EMBO fellow. In addition, Lu is the co-founder and the first Spokesperson of Max Planck PostdocNet, where he gained a lot of experience for future interdisciplinary collaborations and innovations. Away from the lab, he is a member of Max Planck Presidential Commission on furthering internationalisation and diversity in academia.