The security team
Guardians of the institute
What does it mean to be responsible for the security of a research institute? What does the day-to-day work of a security guard look like? The security team of the Max Planck Institute for Biology of Ageing takes us along.
Sunday morning.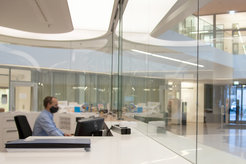 On this cloudy Sunday morning, the institute's atrium is bathed in a gloomy, dim light. From his seat behind the glass window of the reception, Jan P. gazes at me intently. Every person that enters the institute through the round glass door is closely observed. The importance of this will become apparent to me over the next few days, after spending some time with the institute's security team. Jan and I sit down on the chairs immediately next to the reception. Automatically, Jan sits down in a way that he can keep an eye on the entrance area. His work phone is attached to his belt. Constant availability is the motto. Even in the restroom, Jan shares with a grin.
The security team consists of four people: Jan P., Samir P., Christian W. and Joachim S.. They are employed by an external security company, which was commissioned as our institute's security support back in 2017. The four core members of the security team are supported by a stand-by employee who takes over shifts in case of unforeseen (e.g. illness) or planned absence (vacation). Additionally, two or three shifts per month are covered by Wycliff H., whom retirement cannot completely keep from working as a security guard. I start smiling as I recall Wycliff's impressive dancing skills, which he revealed at the institute's Christmas parties, thereby motivating other institute employees to join him on the dance floor.
Jan, who succeeded Wycliff in October 2019, first gives me an overview of the security team roster: They work 12-hour shifts. The days are grouped as follows: Jan and Samir work four days (day and night shift, respectively) and then have four days off, while the other two-person team consisting of Christian and Joachim takes over. Within each four-day block, one person takes the day, the other the night shift. In the next block, they switch. Thus, each team member works the same shift for four days, then has four days off, before taking over the other shift for four days. Today is Jan's fourth and hence last day shift. He is looking forward to spending time with his six-year-old son during his upcoming four days off.
Sunday evening. - Change of shift.
Jan skilfully catches the car keys that Samir throws at him and disappears with a wave towards the underground parking garage. Samir grins at my confused and questioning glance. He then explains to me that Jan and him not only share the workdays, but also the means of transportation: Samir comes to work by car, then hands over the car keys to Jan, who drives home and returns the car to Samir at the subsequent shift change 12 hours later. A time-shifted carpool so to say.
While Samir is preparing himself a litre of coffee to sustain him through the night, we talk about shift work. "I like the variety of both day and night shift." While there is always something happening during the day shift, the night shift is shaped by regular patrols and silence, he says.
Why go on patrols when there are sensors that immediately transmit any malfunction to the reception? The digital warning system is not perfect. Not every technical device can be equipped with a reasonable sensor. A good example of this is a sensor aimed at detecting a water leak. It needs to set off an alarm when the water pressure drops, but at the same time allow for the pipe to be used by several faucets. Thus, the threshold for triggering the alarm must be set relatively high. This, in turn, means that smaller water leaks, which only cause a minor pressure drop, would go undetected. Therefore, the digital warning system must be complemented by a visual inspection during patrols.
During our conversation, Samir's gaze keeps shifting to the monitor with the surveillance camera footage. He explains that the pipes for the upcoming replacement of the sprinkler system have been temporarily deposited in the backyard. Samir is now alert in case anyone gets any stupid ideas. I quickly realize that the security team keeps an eye on everything. This certainty gives me an immediate sense of security.
Instilling this sense of security in others appears to be a deeply rooted desire of the security team: Both Jan and Samir trained as craftsmen before spending several years in the German Federal Armed Forces - including deployments to Kabul and Kosovo. What has remained from this time is their deep desire to protect others. "I simply can't help it", Samir explains with a shrug. Therefore, the two-year training program to become a security and protection specialist was the only "possible" career path for both Jan and Samir.
While Samir is reminiscing about previous work experiences in the security service, I can clearly sense the great appreciation he feels for his current position. Five or even six working days followed by only one day off are not uncommon in this industry sector. Samir painfully recalls his personal record of 360 working hours in just one month. This, he says, is in stark contrast to the positive work atmosphere at the security company and especially here at the institute. "The four-day shift model with 12-hour shifts is, in my eyes, the best there is in the industry," Samir sums up.
What is the most challenging aspect of the job? Having to scold friends from the institute. "It is nothing personal; I am just doing my job", Samir emphasizes. He rarely encounters unfriendly behaviour and seldom has to raise his voice. He remembers only one time when he had to yell: an elderly gentleman was on his way to the institute's own canteen, Minerva's Lounge, which is currently closed to external visitors. When the man showed no reaction to Samir's initial request, Samir had to raise his voice. The elderly man responded by reaching towards his left ear to increase the volume on his hearing aid. Thus, not with malicious intent, but a consequence of age. There is an understanding for this in an ageing research institute.
Monday morning. - Change of shift.
During the handover briefing between Samir and Joachim, it becomes apparent how essential clear communication is for the team's smooth work. Alarm messages are being discussed. Even those that do not require immediate action. A malfunction is often the result of a chain of smaller malfunctions. Therefore, early detection and a timely response are crucial for preventing a severe failure. If an alarm does require an immediate response, the institute's facility management team has an on-call service that the security team would contact.
Last night's shift was a quiet one, hence the handover meeting is brief. Samir is now looking forward to a nice breakfast and then his bed. Around noon, he would wake up on his own, Samir explains. Joachim nods affirmatively to indicate that this is also his routine after a night shift. Neither Samir nor Joachim have experienced any negative health effects from shift work.
Joachim now offers me a seat at the reception desk. This opens up an entirely new perspective: I am in the institute's centre, literally. The reception is the first point of contact after entering the building. "Some people perceive us as an obstacle", Joachim notes. The team tries to counteract this feeling by being efficient and respectful. The goal is to give all visitors a positive feeling. Joachim's personal secret weapon for this is undoubtedly the well-filled candy bowl at the reception desk. He re-fills it at the start of all his shifts. The range of candies is diverse: Ice Bonbons, Riesen, Sahne Muh-Muhs, fruit candies – there is something for every taste. And a smile is almost inevitable: "Even if the person doesn't help himself to a piece of candy - just the sight of the candy bowl makes many people smile", Joachim observes.
I witness the truth of this statement just a few minutes later, when a technician, smiling contentedly, takes a piece of candy. Meanwhile, Joachim welcomes the technician according to the rules by entering his name, company and reason for the visit into the digital visitor list. Since the Corona measures, a telephone number is also required for the purpose of contact tracing, in case of a COVID-19 infection at the institute. The technician then receives a visitor access card. Subsequently, the respective contact person at the institute is notified to welcome the technician. For reasons of protection and caution, no outside visitor is granted access to the institute just like that.
Joachim generally advises everyone at the institute to exercise a healthy dose of caution. If you meet someone you do not know, do not be afraid to talk to them. In this way, an unauthorized person in the institute would be noticed even quicker. Especially the scientists at the institute should be more cautious, urges Joachim. In his opinion, there is too much good faith. "There are bad people out there, too", Joachim warns. During his patrols, he frequently sees unlocked computer screens displaying potentially sensitive research data. Better safe than sorry, he advises, in case an unauthorized person with bad intentions succeeds in gaining access to the institute.
The phone rings. An external caller. Joachim patiently listens to the caller's request. Then, he calmly explains: "At this institute, no one is cutting open the skulls of monkeys to study their brain. In fact, no research on monkeys is being performed here at all." After a polite but firm request to gather better information prior to calling, Joachim ends the call. The security team has to deal with such calls from time to time. Just the other day, Joachim had to explain to an angry caller that the institute's physical proximity to the University Hospital does not automatically mean that patient material is being secretly used for research. I am amused but also appalled by these scenarios, which are more likely to take place in a Hollywood movie than here at the institute.
While Joachim equips another technician with a visitor access card, I glance at the four screens in front of me. On the far left is the screen with the list for external guests. Next to it is the telecommunication centre with all incoming calls, as well as the institute's internal phone book. Then, the monitor with the security camera footage. And finally, the "alarm computer" with a detailed list of all incoming alarms and warnings, divided by severity level. Joachim notices my gaze and offers to introduce me to the various technical systems that the security personnel has to keep an eye on.
The heating and cooling system is of central importance to keep the temperature in the laboratories constant and thereby ensure the reproducibility of scientific experiments. Keeping with the motto "two are better than one", there are two heat pumps at the institute. This minimizes the risk of fatal failures or bottlenecks. Should both pumps fail, a continuous heat supply is ensured by an external system until the repair of the primary systems is completed. This all takes place in the background. Meanwhile, the ambient temperature in the institute would not change at all.
The -80°C freezers in the laboratories are also double-protected by two cooling systems. Should one of these fail, an error message is immediately sent to the reception. However, there is no immediate need for action, because the second cooling system can maintain the freezer's temperature for a while. If, despite the double protection, a freezer should still fail, there are back-up freezers in the institute that are always kept at operating temperature, even if they are not acutely needed.
Lunchtime. Joachim buys a meal at the institute's canteen. He likes to support the canteen and therefore refrains from bringing food from home. While eating, he has to put aside his knife and fork multiple times to answer the phone or record visitors in the system.
His favourite food? Gyros with fries and tzatziki. Or crisps. While playing World of Tanks virtually with friends on his free evenings, he can easily eat up to four bags of crisps. He readily reveals his secret for a slim figure: "I simply leave the calories inside the packaging." Certainly, an unusual way of reducing calories. But the fact that a reduced calorie intake confers health benefits is apparently well known here at the Institute for Biology of Ageing.
A few days later.
Christian, who is on leave at the moment, came to the institute today for a safety briefing. Although the briefing took place virtually, Christian decided to make the short trip to work to attend the meeting together with Samir. Afterwards, Christian and I chat over a socially distanced coffee. Christian has been struggling with back problems since his time in the food service industry. These health problems prompted him to retrain to become a security and protection specialist. At the end of last year, his herniated disc required surgery. Christian is currently undergoing physiotherapy treatment, but is already excited to return to work soon. Above all, he is looking forward to interacting with people at work again, he tells me.
Christian started working at the institute seven years ago. During his time here, he witnessed numerous changes. Among these, he highlights the digitalization of many processes such as the now electronic visitor list. For these developments, good communication with the facility management team is essential. Improvement suggestions from the security team are always heard, enabling the continuous refinement of workflows.
Being the first contact person within the institute for many external visitors bears a serious responsibility. After all, the interaction with the reception often represents the first impression a visitor gets of the institute. The security team is well aware of this responsibility. Christian describes it aptly: "People rarely remember when something goes smoothly. However, they remember for a long time if they are treated in an unfriendly or disrespectful manner. They might even exclaim 'That MPI has such unfriendly staff! I do not want to visit that place again!' This must not happen." Hence, professional and polite interaction is paramount: "Everyone has bad days, but part of being professional is to not take your mood out on the other person."
After our conversation, I pause for a moment in front of the reception desk. Reverberating in my mind is Samir's statement, "You may not realize it, but we are protecting you." I am grateful for this friendly and helpful security team that, often unnoticed, makes an important contribution to the work at the institute.
A contribution by Mihaela Bozukova.