At the heart of the institute: in the scullery with Petra Rifert
Petra Rifert talks about her work in the central scullery of our institute.
Petra Rifert works in the central scullery of the Max Planck Institute for Biology of Ageing. Together with her colleagues Angelika Lütjen and Iris Marx, she ensures that bottles, vessels and test tubes are clean and autoclaves media and buffers for the institute's scientists. Supplying the laboratories with clean glassware and buffers is a crucial basis for successful research at the institute.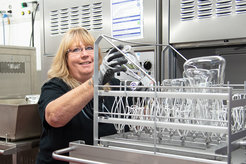 A central scullery like the one here at the institute is really quite a luxury. Dirty bottles and glasses, but also biological waste and buffers, are collected from the laboratories and are clean again on the shelves the next day - even the autoclaved buffers are then ready for use. But what happens behind the scenes? Petra, what does your typical working day look like?
We start our work at the institute at 5:45 a.m. in the morning. Angelika and I have a carpool. I always pick her up in the morning and we drive to work together. At the institute I go to my office first. Totally cool! Then we check for new e-mails, discuss what's on that day and whether there are any special features. I take the rubbish downstairs for autoclaving and turn the autoclave on. Next, I clear out the baskets with bottles and other glassware, and the bottles must all be closed. Then the bottles are sorted onto the trolleys. We have one trolley for the first floor and one for the second floor. Next, I collect the dirty dishes and put them in the dishwasher, so that it can run. Meanwhile, I take the clean dishes up to the laboratories and by then the dishwasher and the autoclaves are finished with the rubbish. That is a bit of a hopping. I then clear out the dishwasher and put the dishes away. In between the liquids are autoclaved.
That sounds like a lot of work and a busy morning programme. What are the mentioned special features that occur on some days?
These are different things, for example when machines are out of order. On Thursday someone comes to repair the dishwasher. Then I have to work a little differently so that the machine is free until 8 o'clock. Last week an autoclave for the rubbish was broken, then a rubbish jam develops very fast. That is always annoying. Sometimes we also have special things that need to be washed. These are for example the feeding boxes from the animal house or the fish tanks. We have even developed a special washing programme for both. That was our pioneering work! That's really cool and we're a bit proud of the fact that we set it up like this. There was no one there who knew how to do it.
How long have you been at the MPI for Biology of Ageing?
I have been here at the institute since 2014. I came in thanks to Angelika, we have been friends for 25 years through our children. Angelika previously worked as a cleaner at the MPI for Metabolism Research and ended up in the scullery. She was then employed at the MPI for Biology of Ageing for the central scullery. In 2014 the MPI for Biology of Ageing was actually looking for a cleaner, but somehow, I ended up in the scullery. At that time everything was still very new and under construction. There was also no one who had experience with a central scullery. Over the years we have tried out a lot of things to find out what is most convenient and how we can work most effectively. For example, at that time all the dishes were only placed in large tubs. We then started to assign a particular colour to each working group so that the dishes could be kept apart. And each group got its own baskets. In total we have 14 different departments and research groups and each group has its own basket. In addition, all glassware is marked with the corresponding colours. This is especially for new temporary workers a great help at the beginning. Unfortunately, the scullery is also a bit too small. Not everything fits as we would like it to. For example, we can only put 12 baskets in the drying cupboards and that's it. But it actually works quite well. The baskets are set in the morning and autoclaved during the day.
So, you have become experts in your field over the years. Do you still do most of the work yourself after such a long time?
Since this year Gabriella Lundkvist has been our supervisor. However, you can't say that she's our supervisor, but rather that she's our contact person who takes care of our concerns. And she does that quite well. The main thing is to call companies when equipment is broken. But Angelika and me also do a lot ourselves. We have screwdrivers and Allen keys in the scullery. In the autoclaves, sometimes a rubber ring comes loose or a screw is loose somewhere. We do not call a company for such small things. Such things are quickly done by yourself. Angelika is already in her tenth year here at the institute, I am now in my sixth. We seniors have already gained some experience there.
The main focus of our institute is research. In order for the research to run at all, however, your work - similar to the work of the cleaning staff, the porters or the administration - is extremely important. Most of the time, however, your work runs in the background. What about appreciation?
Our work is very important. If we do not work properly, the scientists cannot work properly. Appreciation is already great here, I would say. Especially the older scientists, who have already worked elsewhere, know what we are doing for them. Some of the newcomers are still a bit... but at some point, they need us and then they suddenly know our names and where to find us. We already get feedback from some people who thank us. So, there's definitely something coming back, quite a bit of appreciation. I used to work in retail. I am a trained food vendor, so sausage, cheese, meat, all kinds of things. I have also worked for many cleaning companies. Together with Angelika, I cleaned for six years in an elderly people's home, then we were employed by the post office for a year... The esteem you get here at the institute, and how you are treated here, is not the same elsewhere. With most cleaning companies you are actually just a number. It's really sad. No boss comes up to you in the morning and asks, "How are you?" When this happened, I just thought, "Cool! They really ask you here how you're doing and if you like it!" I have to say the interpersonal aspects are great here!
So, there is no shyness towards superiors or the directors of the institute?
No, definitely not. Nils-Göran Larsson, for example, is such a great person. One time, Angelika and I did something stupid and laughed so hard that we couldn't stop laughing and Nils suddenly stood behind us and laughed with us. Now I am not shy to talk to him either. It is similar with my boss, Michael Heinrichs. Of course, he's our boss and maybe you're having a little trouble. But basically, he's only human. We've already had some nice Christmas parties at the institute. Angelika and I drank schnapps together with Linda Partridge and jokes like that. But Nils and Linda are that type of person anyway, you can do that with them. I think it was good that the two of them broke down these barriers with their direct and informal manner. And that has been maintained the whole time. But I think it's a pity that new employees are no longer introduced to us in this way. In the past, there was always a Welcome Café where you could meet new people directly. That can't happen right now because of the Corona measures. Today, you sometimes walk through the departments and you don't even know if I'm allowed to open the door or not. At the moment, of course, the Corona measures make that particularly stupid.
If you had the opportunity, would you change something at your workplace or your working conditions?
No! For me personally, I am completely satisfied and sometimes I thank the good Lord that I am allowed to work here. It's not natural to have a job like this. If, like me, you have done other jobs, it is something great to work here in the community.
A contribution by Kai Fiedler.