Finalist for Eppendorf Award
Lena Pernas selected for her outstanding contributions to biomedical research in Europe
Lena Pernas, head of the Research Group "Metabolism of Infection" at the Max Planck Institute for Biology of Ageing, was selected as finalist for the Eppendorf Award. The Award acknowledges outstanding contributions to biomedical research in Europe. Lena Pernas' group is seeking to understand how human metabolism influences the progression of infectious disease.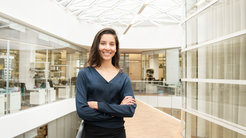 When pathogens attack the cells of a body, they need nutrients to grow and multiply - the same nutrients that the organelles of the host need. This creates competition for nutrients between the microbe and the host. A key player in this competition is the mitochondria, which are organelles that are the powerhouses of cells and take up and breakdown different nutrients to provide energy.
Pernas' research group uses the human parasite Toxoplasma gondii to study how mitochondria respond to pathogen invasion. The group found that mitochondria restrict the parasite's growth by depriving it of nutrients. Recently, they discovered that pathogens can hijack the host's mitochondria and thus disable its defense mechanisms.
About Lena Pernas
The American researcher Lena Pernas performed her Bachelor's studies in Microbiology, Immunology and Molecular Genetics at the University of California in Los Angeles, and pursued her Ph.D. in Microbiology and Immunology at the Stanford University School of Medicine in the US with support from a Stanford/NSF graduate fellowship. In 2014 she joined the group of Luca Scorrano at the University of Padua in Italy where she was supported by DTI-Telethon, an EMBO Long-term fellowship, and the Life Science Research Foundation. She was appointed as a Max Planck Research Group leader at the Max Planck Institute for Biology of Ageing in January 2019.
About the Eppendorf Award
Since 1995 the Eppendorf Young Investigator Award is granted annually to European researchers younger than 35. It acknowledges outstanding contributions to biomedical research in Europe based on methods of molecular biology, including novel analytical concepts. Due to an exceptionally strong field of applicants, the Jury decided this year for the very first time to nominate two finalists, including Lena Pernas. Winner of this year's award is Thi Huang Duong Nguyen, Program Track Leader at the MRC Laboratory of Molecular Biology, Cambridge (UK).