Three new research groups at the Max Planck Institute for Biology of Ageing in Cologne
New focus in research on human ageing
Three new research groups started their work at the Max Planck Institute for Biology of Ageing in Cologne at the beginning of April. At the moment the three scientists Joris Deelen, Ron Jachimowicz and Stephanie Panier are forced by the corona pandemic to work from home and keep their laboratories closed. They want to dedicate their research to research on human ageing and the role of DNA repair in the ageing process.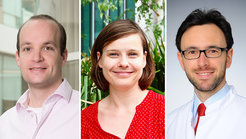 Why do we age and why do we suffer more frequently from diseases such as cancer or Alzheimer's in old age? Research on these fundamental questions is often conducted at the Max Planck Institute (MPI) for Biology of Ageing in Cologne using so-called animal models, such as worms, flies or mice. In order to be able to address the findings from this basic research in humans as well, the Institute has recruited new researchers.
"I am very pleased that with the new research groups, further important fields of research in ageing research are being worked on and that we can increasingly carry out human studies," said Institute Director Thomas Langer.
Genetic foundations for a long life
Joris Deelen, PhD, was already working as a postdoc at the institute and is now starting his own group. He is particularly interested in elderly people and long-lived families in order to find out the genetic basis for a long life and to identify so-called biomarkers that can provide information on health in old age. "I am very happy to continue my work as a research group leader at the Max Planck Institute for Biology of Ageing. Over the years, the institute has produced high-quality science on ageing in model organisms. I am looking forward to expanding the research on human ageing at the Institute through new collaborations with colleagues in the Institute and on the surrounding campus," says Deelen.
Cooperation with the University Hospital of Cologne
Dr. Ron Jachimowicz also focuses on the study of ageing processes in humans. His research group will use samples from patients to investigate how defects in DNA repair can lead to diseases such as cancer. He will work closely with the University Hospital of Cologne, where he will continue to work as a physician. "The Max Planck Institute for Biology of Ageing has been very supportive in this initial phase, which was marked by the COVID-19 pandemic. If there had been an absolute emergency situation at the University Hospital, I would also have been released to help in the care of patients infected with SARS-CoV-2. Fortunately, thanks to all the measures taken here in Germany, the course of the pandemic so far has been much calmer than expected and the hospitals are very well equipped," says Jachimowicz.
Telomeres and ageing
Dr. Stephanie Panier is also investigating why DNA repair processes are so crucial for the ageing process. She is particularly interested in the so-called telomeres, the ends of the chromosomes, which become shorter and shorter with age. "I am very pleased to begin my career as a research group leader at the Max Planck Institute for Biology of Ageing. The research conditions and scientific environment here are excellent. My group therefore has ideal conditions to investigate how genome instability contributes to the fundamental mechanisms of human ageing," says Panier.
About Joris Deelen
Deelen studied biomedicine at Leiden University in the Netherlands from 2003 to 2014 and worked as a postdoctoral researcher at the Leiden University Medical Centre under Eline Slagboom. In 2016 he moved to the department of Institute Director Linda Partridge at the Max Planck Institute for Biology of Aging in Cologne. At the beginning of April 2020 he started his own research group "Genetics and Biomarkers of Human Ageing".
About Ron Jachimowicz
Jachimowicz studied medicine at the University of Cologne from 2003 to 2010 and then worked as an assistant doctor in the Department of Hematology, Oncology and Infectious Diseases at the University Hospital of Cologne. In 2013 he moved to the CECAD cluster of excellence at the University of Cologne as a postdoctoral fellow and spent three years as a postdoctoral fellow at the Sackler School of Medicine at the University of Tel Aviv in Israel from 2014. In 2017 he returned to Germany and resumed his work at CECAD and University Hospital in Cologne. Since March 2020, Jachimowicz has been a research group leader at the Max Planck Institute for Biology of Aging.
About Stephanie Panier
Panier studied biology at the Ruprecht-Karls University in Heidelberg from 2001. In 2008, she moved to the University of Toronto in Canada to do her doctorate at the Department of Molecular Genetics and the Lunenfeld-Tanenbaum Research Institute. She did her postdoctoral research at the Francis Crick Research Institute in London, UK, starting in 2013. From June this year she will head the research group "Genomic Instability and Ageing" at the Max Planck Institute for Biology of Ageing.