Orsolya Leidecker accepted into the Emmy Noether Programme
Starting her research group at the Institute for Genetics at the University of Cologne
Orsolya Leidecker, a postdoctoral researcher in the research group "Mechanisms of DNA repair" at the Max Planck Institute for Biology of Ageing and Fellow of the Mildred Scheel School of Oncology Aachen-Bonn-Cologne-Düsseldorf (MSSO ABCD) at the University Hospital Cologne, has been accepted into the renowned Emmy Noether Programme of the German Research Foundation (DFG). The programme gives exceptionally qualified early career researchers the opportunity to lead an independent junior research group and qualify for a professorship at a university. Leidecker will receive 1.9 million euros over the next 6 years and will establish her research group at the Institute for Genetics at the University of Cologne. Her group will investigate the relationship between two cellular processes that are often deregulated during ageing and cancer: maintenance of genome stability and trafficking through the nuclear pore complex.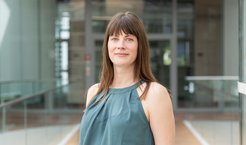 Our genome is constantly challenged by genotoxic stress, which result in numerous DNA lesions and can lead to genome instability. Under physiological conditions, genome stability is preserved by an intricate network of DNA repair pathways that are tightly regulated by post-translational modifications (PTMs) and the controlled transport of proteins via the nuclear pore complex. The complexes are giant channels that perforate the nuclear envelope and mediate transport of large molecules between the cytoplasm and the nucleus.
Leidecker's group will investigate the crosstalk between PTMs and the function of the nuclear pore complex and its components. In the future, this knowledge could be used to develop new treatments for cancer or age-related diseases that involve problems with the nuclear pore complex or DNA repair pathways.
About Orsolya Leidecker
Leidecker studied biotechnology at the University of Technology and Economics from 2004 to 2009 in Budapest, Hungary, and received her PhD in Molecular Biology at the University of Dundee in 2013. In 2015, she joined the Max Planck Institute for the Biology of Ageing as a postdoc in Ivan Matic's research group. Since 2019, Leidecker has been working as a postdoc in the research group of Ron Jachimowicz.
About the Emmy Noether Programme
The renowned Emmy Noether Programme of the DFG offers excellent young researchers the opportunity to qualify for a university professorship by independently leading a junior research group over a period of six years. In addition to an outstanding doctorate, successful applicants must have an excellent publication record and have already achieved international recognition in their field. Funding is initially granted for three years, with the possibility of a further three years.
This article was written by Jonas Goergens.