10th CGA Graduate Symposium 
Festive celebration for the graduation of the Class 2018
On June 14, 2022, the 10th Graduate Symposium of the Cologne Graduate School of Ageing Research took place at the Max Planck Institute for Biology of Ageing - for the first time in a hybrid format, with guests on site in Cologne as well as online.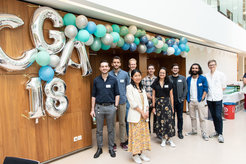 The festive Graduate Symposium is held annually, this year to celebrate the graduates of the class of 2018 who successfully completed their Cologne Graduate School of Ageing Research curriculum. All nine doctoral students of the class of 2018 presented their scientific findings from different fields of aging research. Their presentations were accompanied by three invited and internationally renowned guest speakers: Hannes Lans (Erasmus MC Cancer Institute, The Netherlands), Shelley Berger (University of Pennsylvania, USA) and Fabiana Perocchi (Helmholtz Zentrum München, Germany).
At the end of the symposium, the graduates were awarded with their training transcripts in a formal ceremony, and the festivities continued at a dinner party. Everyone thoroughly enjoyed the scientific and personal exchanges throughout the day as well as the dinner party after a long time of only being able to meet virtually.
Financial support for the one-day symposium was provided by New England Biolabs, Peprotech, Proteintech, Promega, Techniker Krankenkasse, Thermo Fisher Scientific and Zymo Research Europe GmbH.