Why the brain ages
Director Anne Schaefer presents her research at "Wissenschaft im Rathaus"
On the first Monday of every month, members of the "Kölner Wissenschaftsrunde" present exciting cutting-edge research for the people of Cologne. Now Max Planck Director Dr. Anne Schaefer spoke on the topic "Immune cells on the trail: why the brain ages".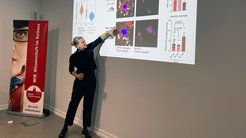 In his welcome address, Cologne Mayor Dr. Ralf Heinen pointed out not only Dr. Schaefer's outstanding scientific past, but also the importance of the Max Planck Institutes in Cologne. He was particularly pleased that with Director Anne Schaefer, a top German researcher could be won for the Cologne location after decades of research in the USA.
Starting with the basic mechanisms of ageing, the speaker first took us through the last decades of research into the biology of ageing. How does the biological life clock determine our ageing process? How have the influence of nutrition, brain and environment on the physical ageing process been researched so far? And why do infectious diseases influence the ageing of the brain?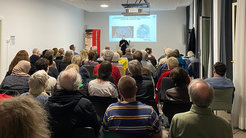 The numerous citizens present contributed to a lively discussion with their questions. Besides the envy of the naked mole rat, the conversation led from the influence of nutrition on the epigenetic clock, to trans-silvanian myths, to the question of possible suppressors for abnormally activated microglia.
A contribution from Dr. Cédric Reuter from CologneBusiness