The secrets of longevity
Photo exhibition provides insights into old age
The photo exhibition "The Secrets of Longevity" can be visited at our institute. Over 50 portraits of more than 25 very old people from all parts of the world offer exciting insights into how people live in old age and how they keep fit in their golden years.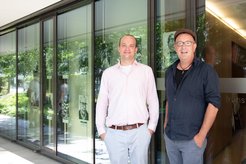 For the exhibition, photographer René Schwerdtel spent more than 15 years traveling to the parts of the world where people grow particularly old. His travels took him to the world's most important "Blue Zones" - the regions where particularly large numbers of people live to be over 100 years old. To answer the question of how people live to be 100 years old or even older, René Schwerdtel portrayed some of the oldest people in the world and explored the secrets of old age in personal conversations with very old, happy people. Over 15 years of exploring the subject of "old age" has not only resulted in one of the most significant and aesthetically pleasing collections of portraits of old people in the world, but has also yielded exciting insights into how people in the Blue Zones live as they grow old.
Each portrait is accompanied by a QR code that can be used to access further information about the life stories of the portrayed people in German and English. "At the Max Planck Institute for Biology of Ageing, we are trying to decipher the mechanisms underlying ageing with the goal of paving a healthier way of ageing. However, we must not forget what it actually means for a person to live a very long time," says research group leader Dr. Joris Deelen. "The photo exhibition offers deep insights into the lives of very old people. The life stories of those portrayed reveal behaviours and circumstances for a long life that are mostly in line with scientific findings: physical exercise, a healthy and balanced diet, and social interactions well into old age."
The photo exhibition can be visited all day and viewed from outside the institute. It is not necessary to enter the institute or to register in advance. The exhibition is free of charge.
About the photographer
René Schwerdtel, born in 1966, has been a fashion photographer for over 30 years. For a long time, he lived and worked in France. He has always been particularly interested in different cultures, countries and their people. When asked more than 15 years ago if he could photograph the coveted senior calendars "Homage to Life" by Wissner-Bosserhoff, he did not hesitate for long and won the German and Japanese calendar award with the first over-100 calendar. A book project on the subject of "100 Years of Life" is in the planning stage.
For more information, please feel free to contact the Press and Public Relations team or the photographer René Schwerdtel.
If you want to learn more about the main topics of aging research and especially about why we age and how we age healthily, please visit our section Healthy Ageing.